From government scientist to entrepreneur to philanthropist
November 06, 2016,
VLN Advanced Technologies is not a typical renewable energy or water treatment company that many associate with the clean-tech sector.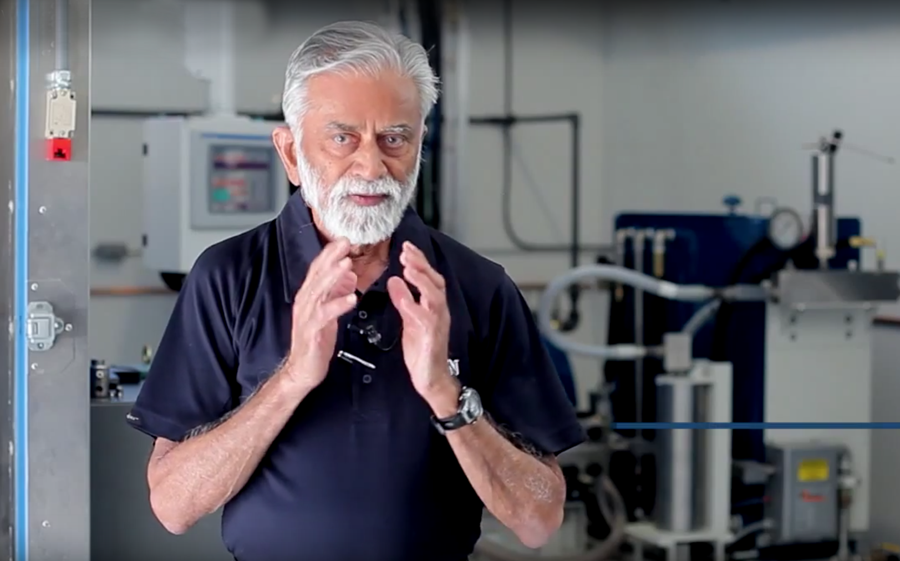 Instead, it is a business that helps remove paint, chrome and other coatings with a high-pressure jet of water, pulsating at a rapid frequency, without damaging the surface.
VLN is excelling in an industry that traditionally removes such coatings with a harsh chemical bath that creates disposal headaches or by grinding the surface with diamond wheels and risking damage to the underlying object. Both methods are highly time-consuming.
The company is led by Mohan Vijay, who has first-hand experience of the many hardships encountered by clean-tech startups. VLN was born after budget cuts at the NRC made it clear that Mr. Vijay's research would no longer be supported, forcing him to transition from a federal bureaucrat to a private-sector entrepreneur.
VLN's first business plan essentially said, "I'm such a famous scientist and engineer with several publications and a global network that everyone will buy from me." The NRC hired a business consultant to rewrite the business plan, tossing Mr. Vijay's ego out.
To finance his venture, Mr. Vijay sold his retirement condominiums, cashed in his retirement savings and all his bonds, used his wife's salary and took a line of credit against their home. He borrowed heavily from credit cards and, at times, associates. He discovered along the way that patents are only as good as they are enforceable – particularly in foreign countries – and that the only way to stay ahead was through continuous improvements on his invention.
In the end VLN ended up assigning its pulsed waterjet technology to Pratt & Whitney for an undisclosed (but worthwhile) amount. But the story doesn't end there.
Unlike many entrepreneurs who reinvest their hard-earned success solely in themselves, Mr. Vijay has launched VLN Reach Foundation. It's an ambitious initiative to construct large, majestic office buildings, leased to private tenants, in the shape of open lotus flowers around the world.
The first is hoped to be in Ottawa, with the goal of generating a recurring revenue stream for disadvantaged children.
"When I was going to university in Mumbai, India, I had to leave early to commute to the campus. Just before reaching the college, I would stop at a dairy at the station to buy a bottle of milk for breakfast," recalled Mr. Vijay.
"Every time I put the empty bottle down there were about seven children there fighting over the cream of milk left around the mouth of the bottle, such was the level of poverty. I promised myself that I would do something to change this."
Marc McArthur is president of Crosstaff Consulting Inc. He can be reached at mmcarthur@crosstaffsolutions.com.
Source: Ottawa Business Journal